All Jewelry on Sale!!
Just in!! A brand new shipment of ANTIQUE jewelry from the Middle-East! These are beautfiul pieces, and all unique. Since they do range in age from 1900's to 1950's, some are missing a little piece here or there, but it adds to their antique beauty and character! These are getting harder and harder to find, since the antique ones cannot be reproduced. These are not brand new, shiney, cheap reproductions. You will be amazed! Very competitively priced!!
Be cautious of reproductions of antiques-- they are newer metals, usually weaker, and without the charm that a true antique possesses!!!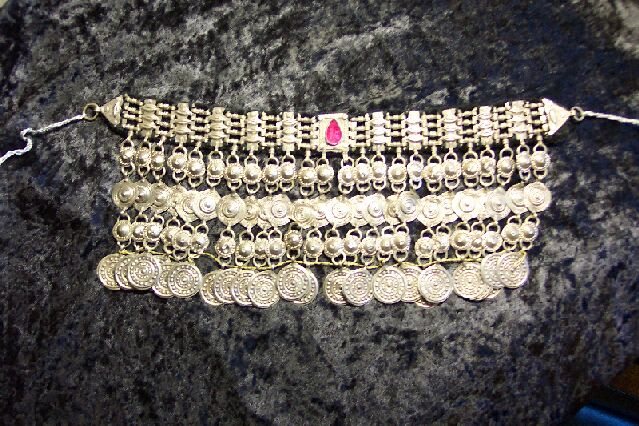 SOLD!!!!!!!!!!
$60
On Sale for $55!!
This beautiful necklace has a center, red teardrop. It is long and would be a gracesful, and fun sounding addition to any neckline. Backed with a hand-sewn velvet, the is a very good quality, antique piece. It hangs elegantly around the neck, drawing the view away from the face. This piece will match anything black, red, and possibly even magenta, very well. SOLD!!!!!!!!!
.
$60
This fun colored piece boasts shell-shaped metal leaves on the bottom. They make a very unique sound and pitch while dancing and moving. Very pretty! Comes with hand-sewn velvet backing. Many colors allow it to match many different colors of garb!
.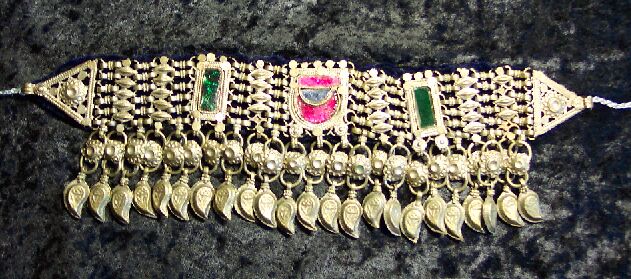 $60
This necklace also boasts the metal, shell-shaped leaves along the bottom. The center piece is a gorgeous, colored glass crescent moon! Comes with vevlet backing. Heavy duty metal and very durable for it's age and design!
.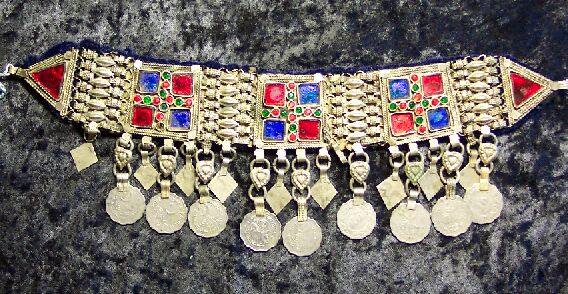 $65
This wonderfully bold choker has chunks of bright red and bold blue squares all around the neckline. This is the perfectly colored piece for any tribal dancer's wardrobe! Also has beatiful squares of jingly metal and traditional coins! Gorgeous piece! (Red is the most visable color for any dancer to wear!)
.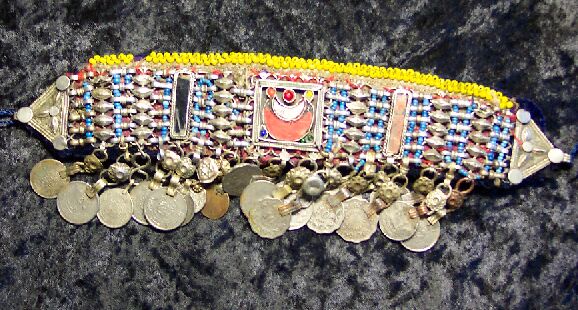 $60
This antique piece has TONS of hand-sewn indian style glass beads all over it; mainly yellow and blue. A very fun and unique necklace for any body for any time! Has large coins and center, red crescent. Very unique piece will inspire via colors and design!
.
$80
This is a very traditional, very beautiful, double eagle headdress! Gives gentle sounds and falls gracefully around the face-- a must have for any dancer! Metal squares add sound and beauty to this wonderful, hard to find, piece. Comes with velvet backing. Very similar to the one shown at the Holly Renaissance Festival, this piece gracefully frames the face!
.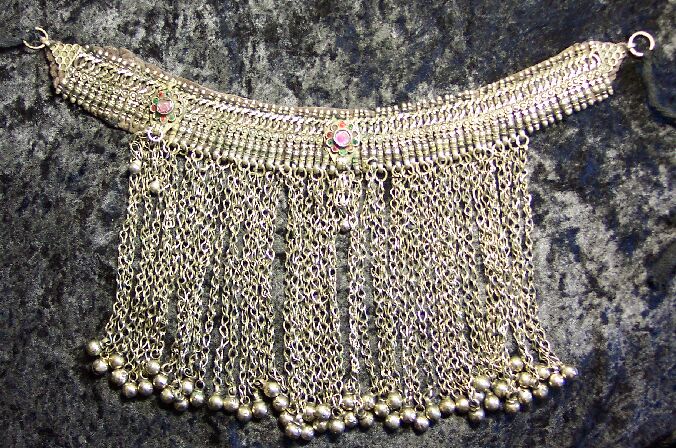 SOLD!!!!!!!!!
$80
On Sale for $75!!
This is an INCREDIBLY hard to find, Waziristan choker. A beautiful antique in GREAT condition. Missing only one of the 3 accent pieces; but no one will notice when you are wearing this terrific piece! Gorgeous sound, and incredible length and movement!! Heavy and gorgeous!! This has to be one of our favortite pieces out of this collection. SOLD!!!!!!!!!
.
$80
This is a classic, traditionally beautiful headdress! Somewhat fragile, but well worth the tender loving care! This piece is about 75-100 years old, and is still in GREAT condition. Squares of metal and white, indian seed beads adorn this incredible find!